Alright, so Thursdays are supposed to be Thursday Threads (clothing lines, crafts, etc.), right? Well...we don't have anything set up for this Thursday yet...so we'll go back to Tuesday's subject, TV, and talk about a current TV star Hugh Laurie. You might know him these days from the show House. I don't watch this religously and for a long time, I never watched it, but I do enjoy the odd episodes I catch a lot...House is a crazy, sarcastic guy and I love it!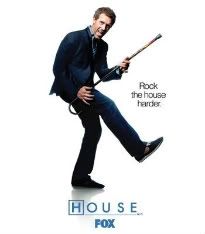 But I'm not writing about Hugh Laurie to talk about House. I'm here to discuss some things about Mr. Laurie that you might not already know!
First off, Hugh Laurie isn't just a TV star. This might not surprise you...a lot of actors and actresses aren't these days, but did you know he was Stuart Little's dad?
Yep, it's true...in Stuart Little and Stuart Little 2.
Going back to TV...did you know Hugh Laurie is actually British? He used to do a comedy skit show with actor Stephen Fry called A Bit of Fry and Laurie. It's quite hilarious from the clips I've seen and Laurie does a lot of singing...here are some clips to demonstrate!
Hugh Laurie singing "Mystery"Hugh Laurie singing a "savage, savage, angry" song called "Where is the Lid?"
Now...you know that Hugh Laurie acts in movies, on TV, can do a great American accent, sings, plays the piano, and writes his own songs...what else? Well, did you know he's also written his own book?
That's right...Hugh Laurie is a published author. His one and only book, as of yet, is called The Gun Seller.
I have read this book and would love to read it again as soon as I find the time. It's got mystery and humor all packed into one. At times, the book did become a bit confusing, but is definitely worth checking out, I believe, if the premise sounds good and/or you are a fan of Hugh Laurie.
To learn more about the book, go
here!
There you go! Perhaps you already knew all this about Hugh Laurie...maybe you only knew a bit of it...and then again, you might be learning all this for the first time.
I'd love to know what you think about some of Hugh Laurie's past projects, House, or just him in general!
What did you know? What did you not?
Discuss!