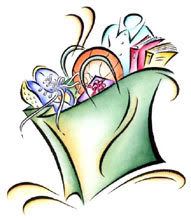 That's right! You can shop for free!
(Open to EVERYONE!)
It stars today October 9 and going until November 15 2008. This is tentative...if it changes, I will let you all know.
The idea is this:
Comment on every single post from Thursday Threads: Rockin Bones and on through the end of this (right now, Dec. 15) and each comment will be a point.
At the end, I'll count how many posts I had and come up with how much each item will be worth (a certain book might be five points, something smaller might be two points, etc.)
There will only be about 2 or 3 winners (again, if this changes, I'll let you know) based on all comments. If you win, I'll let you know how many points you accumulated and you can "buy" as many items as you like in the list as long as you have enough points.
I hope this all makes sense! Let me know if you have any questions.
Again...any questions? Let me know! This is all tentative and can be changed; I just want to see how it goes! Hope you enjoy! Spread the word.
Alright, the points for each item won't go up until the end, because it all depends on how many posts I have by the end date. I don't know that at the moment.
ALSO: More will most likely be added as time goes on, so please keep checking this post to see if there is anything new.
For now...here is the list of things you can "buy"-
BOOKS
After the Fire: A True Story of Friendship and Survival by Robin Gaby Fisher (hardback)
My Life: The Musical by Maryrose Wood (paperback, old ARC)
My Pet Virus: The True Story of a Rebel Without a Cure by Shawn Decker (paperback)
How the Other Half Hamptons by Jasmin Rosenbert (paperback)
Secret Diary of a Call Girl by Anonymous (paperback)
Breaking Up is Hard To Do by Various Authors (paperback, old ARC)
When Engulfed in Flames by David Sedaris (Hardback)
King Dork by Frank Portman (Hardback)
MUSIC
My Chemical Romance
Black Parade
album (still in wrapping!)
MISCELLANEOUS
Buttons
I Read; Therefore I Am (white)
Frankly My Dear, I'd Rather Be Reading (green)