This Holiday season, I participated in two secret santas that were a ton of fun! I'd love to continue them next year. First up, I was a part of the second annual Book Blogger Christmas Swap that Nymeth and Dewey (R.I.P.) put together. It was great seeing some new blogs and my Secret Santa got me the novel Prep, which I'm stoked about!! At first I didn't know who sent it, because they didn't leave a note or name on who they were...but I finally realized it must be my Secret Santa! :) Thank you so much! I wish I knew who you were!!!
Next up is the secret santa I put together for some YA authors and bloggers. It's the same type of deal, but with people you know better and on a much smaller scale. It was a ton of fun and I'd really love to continue this next year as well with some new people. Thanks to everyone being so supportive of my idea though and participating!
Anyway...on to the reveal! My second secret santa was Brooke Taylor!!! Brooke, you seriously SERIOUSLY outdid yourself. I mean, wow! I was so shocked to get my package, but I loved it very much. THANK YOU THANK YOU THANK YOU!!!
I got the novel Suicide Notes from Michael Thomas Ford, which I'd been wanting for awhile now. I can't wait to read it!
She also got me the memoir Without You by Anthony Rapp (who played Mark Cohen in the original Broadway cast and in the film version).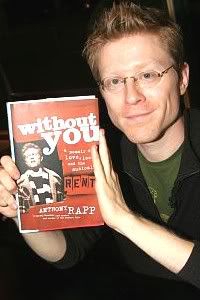 I'm a hugeee fan of Rent and the character of Mark is my favorite and I also love his real-life counterpart, Anthony, so this was an amazing gift. Brooke was afraid I'd already have it, and to be honest, I did...but it's the hardback version and I love carrying around paperbacks more often, so this is a huge help for when I finally get a chance to re-read it!! I love it! :)
Now, I don't think I've ever mentioned my love of penguins, but Brooke sent me a little picture frame that could be an ornament in the shape of a penguin. It sooo cute and absolutely fits me! I adore it so very much!!!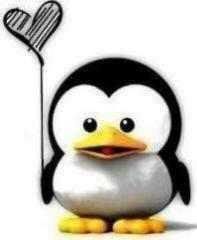 My box (yes, a BOX) was filled with tons of little yummy goodies as well such as cute candy canes, chocolate, gum, etc.
Finally, Brooke included a copy of her novel Undone, which I've been wanting to read for awhile now. It looks amazing.
Again, thank you very much Brooke. You really outdid yourself and I'm definitely appreciative. It made my Christmas a little more fun for sure!!
Everyone else in the YA Christmas Swap...post what you got if you have them!