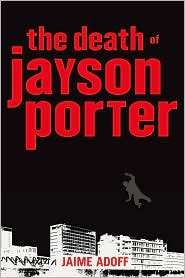 The Death of Jayson Porter
By: Jaime Adoff
Review by: Lauren
Jayson is sick of living in a run-down apartment, in the middle of his very own war zone of violence and drugs. He soon begins holding onto the rail, imagining what it would be like to simply jump off and end all of his suffering: the mom who drinks all the time and beats him, with a dad who is strung out on cocaine most of the time. Though he has his best friend Trax and eventually finds himself with a girlfriend, nothing can ever cheer Jayson up quite enough for him to believe that life is worth living. After all, as soon as things look a little brighter, another tragedy strikes Jayson's life until he simply can't take it anymore.
The Death of Jayson Porter is an amazing, emotional, and sincere novel. It's the type of book you have to read for yourself to fully process and enjoy, with the use of italicizing, bold letters, and the often poetic form of writing that helps bring you in and relate to Jayson. As you read, you'll feel the thoughts and emotions of Jayson as if he was personally telling you his story.
An intense read that will stay with you after you finish.
My song pick for The Death of Jayson Porter:
"Going Under" by Evanescence The Debs
By: Susan McBride
Review by: Lauren
Laura, Mac, and Ginger are three best friends getting ready to receive their invitations to be a Texas debutante. However, another girl Jo-Lynn is dead set on making sure that at least Laura isn't invited, ultimately using a secret that not even Mac and Ginger know about. As for the other girls, Ginger becomes caught up in a protest with a cute boy and Mac isn't sure if she really wants to be a deb, though her mother who recently passed away always wanted her to be one.
The Debs may revolve around the debutante world but all of these girls are real and interesting. Told in all of their point of views, you get an insight into their lives and feelings, making you feel for all of them on some level. I found this book very similar to The Elite in many ways, but on this end, you won't find the high life New York living.
Recommended. I can't wait for the sequel.