Ever since Christmas (which is when I saw Marley and Me), I've been going to the movie theatre a lot more. At the moment, these are the four films I have seen, including Marley. Have you watched these movies yet? Did you want too? Do you want too now? Share your thoughts/reviews in the comments!!
Marley and Me
Marley and Me is the story of a couple who, instead of having children right away, purchase a puppy and name him Marley. However, this isn't your regular puppy and they soon realize that he's a bigger handful then they first thought. Marley and Me takes you on the journey with recent newlyweds, to moves, and finally having kids one two and three. Since this movie covers a lot of years, it can often drag a bit, but overall, it was a sweet, funny, and very sentimental movie. If you are easily led to tears, bring tissues!

The Tale of Despereaux
This animated film of a mouse that simply will not stop being brave is packed with top-notch actors, from Matthew Broderick to Robbie Coltrane (Hagrid, for all you Harry Potter fans!). Though it took a little time to get started, the movie soon became a great joy to watch and would make a perfect family film. The message behind it was beautiful, showing that being yourself and not backing down in the face of danger are very fine qualities.

Bedtime Stories
As a fan of Adam Sandler's films, I highly enjoyed Bedtime Stories. It's perfect for kids a little older and up. As a hotel maintenance man who hopes to one day be manager, Adam finds himself babysitting his sister's kids for a week and coming up with a new bedtime story every night. However, he soon realizes that whatever the kids say will come true in some fashion the next day. I found myself laughing through most of the film and definitely enjoyed Russell Brand as Adam's best friend in the movie. Finally, like every Sandler film, be sure to keep a look out for Rob Schneider.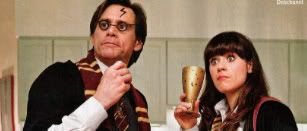 Yes, Man
Jim Carrey stars as a man too afraid to say yes to anything who suddenly finds his life turned around by a seminar. As a new "Yes Man" he finds himself staying out all night, getting in fights over a girl, being able to start a new relationship, going on random trips, and so much more. Yes, Man also stars She and Him singer Zooey Deschanel, who I love and did an amazing job in the movie. Some wonderfully amusing highlights from the film are a misunderstanding at the airport, a Harry Potter party, and the saving of a man about to jump off a building.