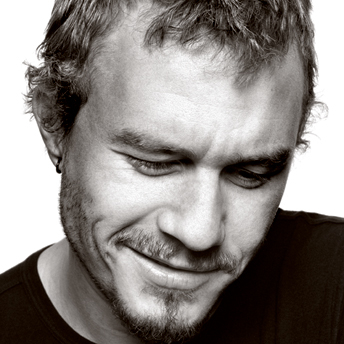 Entertainment Weekly: January 23, 2009
Review by: Lauren
Photo: This photo appears on the cover (at least it does if you are a subscriber)
Now that I have a subscription to Entertainment Weekly, I thought it might be fun to kind of "review" the issues (one a week) so that those of you who would need to buy the magazines every week can see if it's worth it to your or not. I also have a couple other subscriptions, so I might try and "review" those as well if people are interested or I find the time.
Anyway, this issue's big article is about Heath Ledger, whose one year anniversary of his death is coming up this week. I didn't know a ton about Heath before he died, but this article really shows the side of him that the public wouldn't have known about. He wanted to do the work that he really loved and hated the idea of winning awards. The whole article is mostly told through the memories of those he worked with, from Catherine Hardwicke (director of Lords of Dogtown) to Gary Oldman (from The Dark Knight). It was a very illuminating story of a life that definitely ended too soon. I'd recommend this issue for the article alone if you are at all interested in Heath.
In the TV on DVD section, I found an article about the British TV series Skins. The title sounds vaguely familiar, but I didn't know what the show was about until reading the review and looking it up. It reminds me a lot of the show Degrassi, with teens dealing with all sorts of problems, but much more realistic in ways because of what the UK will allow in their shows. It sounds great and apparently the first season is available now in the US, but I did hear it's a bit different then the UK version, which is sad….I, however, still really want it because it sounds like an awesome show. Not to mention that Nicholas Hoult stars in it and I haven't seen any of his work since About A Boy (he played Marcus).
There are also quite a few pages in the Winter TV Guide, showcasing new shows and old hits. Two of the shows I was excited to see mentioned, with brief quotes from actors and actresses, were United States of Tara and Trust Me. I wish I could view USOT, and am really excited to start watching Trust Me.
Now, for my final note, I bring you to one of the best sections in Entertainment Weekly…Books. The main review for this issue is for the novel Beat the Reaper by Josh Bazell. I know a lot of book bloggers have this and probably even have a review up somewhere, so I figured it was worth mentioning that you can see what a print publication has to say. I have this book as well, and I hope to be able to read it at some point in the near future. It really does sound interesting!! To find out what Benjamin Svetkey thought, as well as the grade Beat the Reaper was given, you'll have to pick up an issue of this week's Entertainment Weekly.