This week's Wish-List Wednesday is a collection of 3 books that I want...and really, it DOES fit everyone else's Waiting On Wednesday because these books aren't out yet.
I have one book featured for Bridge the Gap, as well as all the other posts (if you haven't read them yet), so please
read and comment.
Lipstick Apology by Jennifer Jabaley
Sometimes a good-bye is just the beginning…
When Emily Carson's parents die in a plane crash, she's left with nothing but her mother's last words scrawled in lipstick on a tray table: "Emily, please forgive me."

Now it's fall and Emily moves to New York City— where she attracts the attention of two very different boys: the cute, popular Owen, and her quirky chemistry partner, Anthony. With the help of some surprising new friends, Emily must choose between the boy who helps her forget and the one who encourages her to remember, and ultimately heal.

Debut author Jennifer Jabaley has written a wonderful, feel-good romantic comedy with real emotional depth. Full of lovably wacky characters, Lipstick Apology is a heartwarming story about the true meaning of forgiveness.
I've wanted this one for a little while now. Jennifer is one of the 2009 Debutantes and Lipstick Apology is just one of the amazing releases.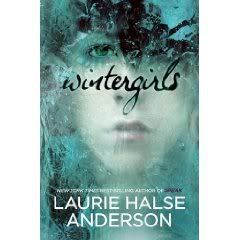 Wintergirls by Laurie Halse Anderson
"Dead girl walking," the boys say in the halls.
"Tell us your secret," the girls whisper, one toilet to another.
I am that girl.
I am the space between my thighs, daylight shining through.
I am the bones they want, wired on a porcelain frame.
Lia and Cassie are best friends, wintergirls frozen in matchstick bodies, competitors in a deadly contest to see who can be the skinniest. But what comes after size zero and size double-zero? When Cassie succumbs to the demons within, Lia feels she is being haunted by her friend's restless spirit.
I've read Speak by Anderson and it was amazing. I have yet to read anything else, though I've been meaning too for awhile. This book, however, looks amazing and I can't wait to read it!
Geektastic: Stories from the Nerd Herd
Acclaimed authors Holly Black (Ironside)and Cecil Castellucci (Boy Proof) have united in geekdom to edit short stories from some of the best selling and most promising geeks in young adult literature: M.T. Anderson, Libba Bray, Cassandra Clare, Tracy Lynn, Cynthia and Greg Leitich Smith, David Levithan, Kelly Link, Barry Lyga, Wendy Mass, Garth Nix, Scott Westerfield, Lisa Yee, and Sara Zarr.

With illustrated interstitials from comic book artists Hope Larson and Bryan Lee O'Malley, Geektastic covers all things geeky, from Klingons and Jedi Knights to fan fiction, theater geeks, and cosplayers. Whether you're a former, current, or future geek, or if you just want to get in touch with your inner geek, Geektastic will help you get your geek on!
I. Need. This. Book. In. My. Life. Right. Now.
That pretty much covers it. I'm definitely a self-proclaimed nerd in so many ways, and I think this will be a great anthology. I really want it so bad!