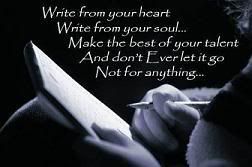 Yes, you get three posts in one day from me. Either see it as me being very bored or a my Easter gift to you! LOL

Anyway, I wanted to talk about writing and publishing books. I love to write, though recently I've been able to get more into it and not stop in the middle of something. That's really exciting for me, since I've always wanted to publish a book and being able to call myself an author.

Seriously, I went to Barnes and Noble the other day and found exactly where my book would go on the shelves in the YA section if I had written one. Yeah, yeah, I'm a bit dorky. I never denied it. :)

Right now I'm working on a new story that I'm really excited about. I find myself thinking about the story and what is going to come next while I'm out with my family or at night trying to go to sleep (which doesn't really help with the sleeping bit). At the moment, I have written 11,118 words in a Word Document. I'm not sure what the basic average is for a YA book, but right now I'd love to get it at 30,00o words, maybe a little big longer if needed. So authors out there: how long are your books? What's the average?

For everyone else, do you dream of becoming an author or simply publishing any of your writing whether fiction or non-fiction? As I said, I definitely do, and it would be amazing if it happened sooner rather than later, but I suppose good things are worth waiting for, regardless, huh?