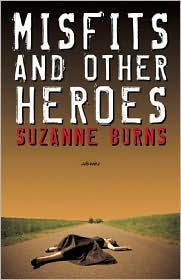 That's right! My review for the book Misfits and Other Heroes by Suzanne Burns is on the website Sadie Magazine. I'm so excited and I hope you all will go and read the review right now. I'd love to know what you think. The review is probably the longest I've ever written, for a book at least.
Here is a direct link:
Let me know if it doesn't work for you for some reason! Can I just say right now though that I LOVE this cover?! I hadn't seen it until today, actually, but it's great. I love the girl and her dress and the font they used for the title/author. What do you think?