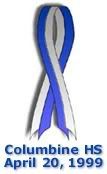 Today marks the tenth anniversary of the Columbine shootings. I definitely believe that it is a day to remember, not only for the lives that were lost but because of what happened to lead up to this day.

I wanted to mention one of my favorite books in hopes that more people might check it out.

It's called No Easy Answers: The Truth Behind Death at Columbine by Brooks Brown and Rob Merritt

Does anyone remember the story about one of the shooters, Eric Harris, telling a student before the shooting began to "get out of here"? Well, whether you do or not, that student was Brooks Brown (yep, one of the authors) and Brooks grew up with Dylan Klebold, the other shooter. Once they made it to high school, Dylan became close to Eric and Brooks' relationship was never really the same with either of the boys: Dylan was closer to Eric and Eric never really liked Brooks.

I think this book is a great read for anyone interested in the Columbine shootings as I was when I first read it (and I still am) because it's from the point of view of not only someone who was there, but someone who can tell you a little more about Eric and Dylan then anyone else might be able too. He doesn't know all the answers of course, hence the title, but it's a thought-provoking read and shines a light on some of things you might not have known about before.

As for books on Columbine, I'm actually hoping to be able to read the latest book out called simply Columbine by Dave Cullen.