You've seen In My Mailbox, now you are going to witness my list of "OMG WHY AREN'T THESE BOOKS IN MY MAILBOX?" That's right, I don't own any of these but I really wish I did. I'm sorry I didn't post the dates they are released, but if the cover and/or summary look good to you then go and look it up and you'll find out. I
think
they are all either out now or coming out this year, but I can't be positive. Anyway, I didn't put comments for each book, but like I said, I want these all so you know what I think. What about you though? Anything catch your interest?
In a secret underworld, ninjas and vampires are one and the same.



Crossed Wires by Rosy Thornton
This is the story of Mina, a girl at a Sheffield call centre whose next customer in the queue is Peter, a Cambridge geography don who has crashed his car into a tree stump when swerving to avoid a cat. Despite their obvious differences, they've got a lot in common -- both single, both parents, both looking for love. Could it be that they've just found it? CROSSED WIRES is an old-fashioned fairy tale. It is about the small joys and tribulations of parenthood; about one-ness and two-ness; about symmetry and coincidence; about the things that separate us and the things that bring us together.



The Sinful Life of Lucy Burns by Elizabeth Leiknes
Lucy Burns wants a normal life: friends, love, and a family of her own. And she could have it all if only she could break free from the job she hates.
That job? Facilitator to hell. And her boss is a real devil.
At the age of eleven, to save her sister's life, Lucy writes a desperate letter to "To Whom It May Concern", but when He writes back, Lucy is bound for life.
There are perks: sure she's ageless, she's beautiful, and she can eat as much chocolate as she wants and never get fat, but there are also consequences.

She can never see her family again.She can never have a boyfriend.She must spend her life leading sinners to their demise.After nineteen years of doing the Devil s dirty work, Lucy wants out, but it all seems hopeless until Teddy Nightingale, her easy listening music idol, gives her the answer: a little-known loophole.

If she succeeds, Lucy gets love, happiness, and everything she ever really wanted. But the consequences? They're considerably worse than death. To make it through, Lucy must decide what is evil and what is good, what is right and what is wrong, and if, in the end, there's ever any way to truly know.

Smart, sassy, fun, and wickedly funny, "The Sinful Life of Lucy Burns" is a fast and stunning read perfect for any occasion. Elizabeth Leiknes's fresh writing and comic wit will stick with you long after you've put the book down.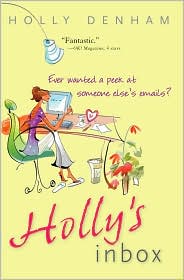 Holly's Inbox by Holly Denham
Summary:
Ever wanted a peek at someone else's e-mail? Discover the secrets of HOLLY'S INBOX. Meet Holly Denham. It's her first day as a receptionist at a City investment bank and, with no corporate front of house experience, Holly is struggling to keep up. Add to this her mad friends, dysfunctional family and gossipy colleagues, and Holly's inbox is a daily source of drama, laughter, scandal and even romance. But Holly's been keeping a secret from everyone - and the past is about to catch up with her...Launched in February 2007, www.hollysinbox.com became a website phenomenon, with thousands of visitors from all over the world logging on daily to read Holly's e-mails. This novel tells Holly's story in full, and also includes exclusive extra material not available on the site.
Black is for Beginnings by Laurie Faria Stolarz
Summary:

The BLUE IS FOR NIGHTMARES series that put a spell on more than half a million readers continues – in graphic novel format! Prophetic nightmares. Near-brushes with death. Killers pursuing her and her friends. Stacey Brown knows that being a hereditary witch isn't all it's cracked up to be.

All she really wants to do is work things out with Jacob and figure out what to do with the rest of her life. But before Stacey and Jacob can have a future, they must face their pasts. BLACK IS FOR BEGINNINGS reveals the never-before-seen backstory – and what lies ahead – for the young, spellcasting lovers.
Dying Bites by D.D.Barant

Her job description is the "tracking and apprehension of mentally-fractured killers." What this really means in FBI profiler Jace Valchek's brave new world—one in which only one percent of the population is human—is that a woman's work is never done. And real is getting stranger every day…

Jace has been ripped from her reality by David Cassius, the vampire head of the NSA. He knows that she's the best there in the business, and David needs her help in solving a series of gruesome murders of vampires and werewolves. David's world—one that also includes lycanthropes and golems—is one with little knowledge of mental illness. An insane serial killer is a threat the NSA has no experience with. But Jace does. Stranded in a reality where Bela Lugosi is a bigger box office draw than Bruce Willis and every full moon is Mardi Gras, Jace must now hunt down a fellow human before he brings the entire planet to the brink of madness. Or she may never see her own world again…

Intertwined by Gena Showalter
Summary:
There's something about the new guy at Crossroads High . . .

Most sixteen-year-olds have friends. Aden Stone has four human souls living inside him:

One can time-travel.One can raise the dead.One can tell the future.And one can possess another human.

With no other family and a life spent in and out of institutions, Aden and the souls have become friends. But now, they're causing him all kinds of trouble.

Like, he'll blink and suddenly he's a younger Aden, reliving the past. One wrong move, and he'll change the future. Or, he'll walk past a total stranger and know how and when she's going to die.
He's so over it. All he wants is peace.

And then he meets a girl who quiets the voices. Well, for as long as he's with her. Why? Mary Ann Gray is his total opposite. He's a loner; she has friends. He doesn't care what anyone thinks; she tries to make everyone happy. And while he attracts the paranormal, she repels it. For her sake, he should stay away. But it's too late. . .

Somehow, they share an inexplicable bond of friendship. A bond about to be tested by a werewolf shape-shifter who wants Mary Ann for his own and a vampire princess Aden can't resist.
Two romances, both forbidden. . . doomed.
Still, the four will enter a dark underworld of intrigue and danger. . . but not everyone will come out alive. . .


My Soul to Take by Rachel Vincent
SOMETHING IS WRONG WITH KAYLEE CAVANAUGH

She doesn't see dead people, but...

She senses when someone near her is about to die. And when that happens, a force beyond her control compels her to scream bloody murder. Literally.

Kaylee just wants to enjoy having caught the attention of the hottest guy in school. But a normal date is hard to come by when Nash seems to know more about the need to scream than she does. And when classmates start dropping dead for no apparent reason, only Kaylee knows who'll be next...

SOUL SCREAMERS
The last thing you hear before you die...

Time of the Witches by Anna Myers

Summary:

An orphan named Drucilla has finally has a place to call home with the Putnam family in Salem. Although her adopted mother is strange—haunted by a troubled past—Dru feels drawn to her as the mother she never had. When a new reverend and his family move into town with their servant Tituba, life takes a strange turn as young girls begin to fall ill and accusations of witchcraft begin to swirl. Reluctant to turn her back on the Putnams or her peers and overwhelmed by the power of groupthink among the other girls in town, Dru becomes one of the accusers herself. But when her best friend Gabe is accused, she must find a way to end the hysteria, or risk losing him forever.