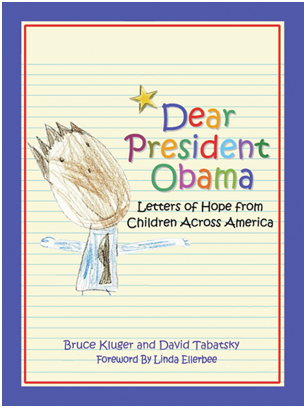 I'm so happy to be positing a message here on Shooting Stars Mag. Any opportunity to hang with "a group of people who write about the things we love" is an opportunity worth grabbing, in my book.And speaking of my book (how was that for a segue?!), I wanted to tell you about my new book, Dear President Obama: Letters of Hope from Children Across America (Beckham). Conceived, compiled and released in just four months, the book was the brainchild of my friend and co-author, writer-educator David Tabatsky.
On the morning after the November 2008 presidential election, David showed me a copy of an exquisite, hand-written letter his 12-year-old daughter, Stella, had written to the president-elect the evening before. "I am so honored to be alive to witness the history you have made," Stella's letter began. "Our country needs you."David and I got to talking. "Wouldn't it be interesting," he suggested, "to collect letters like this from children all across the country? Don't you think that there are hundreds of thousands -- maybe even millions -- of kids who feel the same way?"
We began testing the waters, emailing friends and relatives, asking if their children had something they wanted to say to America's 44th president. The responses were great, and the letters and drawings began rolling in. What we hadn't counted on, however, was that these same friends then forwarded our email to their friends -- and within four weeks, David and I were in possession of more than 1000 letters and drawings!
In the end, our project was suddenly being driven by the same infectious enthusiasm that drove the Obama campaign itself. The final book includes 200 of those submissions, created by kids from 29 states and every region of the country -- from the 7th grader in a Manhattan private school, to a schoolhouse of kids in the poorest community in Lincoln, Nebraska.
We sure hope you'll stop by our web site --
http://www.obamakids.us/
-- take a look around, and pick up a copy of Dear President Obama. As legendary TV journalist Linda Ellerbee writes in her beautiful foreword to the book, "Kids really get it. They believe they can change their world…Reading these letters to President Obama, I consider what wonders we may see if the kids of today can hang onto this hope, this wanting to do the right thing; if they can come together to make change for the good, and never, ever stop caring about their country, its citizens and our beautiful, spectacular, inspiring, all-American differences. Pay attention to their letters. They are the future speaking to us."
-- Bruce KlugerCo-author, Dear President Obama, Letters of Hope From Children Across America
Giveaway-


Prize: One Copy of the Book


Open To: U.S. Only


Ends: August 31


To Enter: Leave a comment on this post...I'd love to know what you would want the president to know if you could write him a letter...but it's not something you have to do to be entered!


Extra-


+1 if you follow or already do (leave a NEW COMMENT!!)


+1 if you post about this somewhere else (leave a NEW COMMENT!!)


I'm going to try and have a review up by the end of August and leaving a comment on the review will count as entry too!