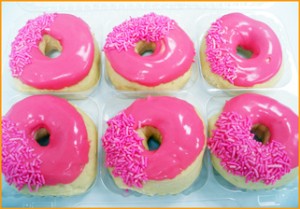 Photo Source
HOLEY DONUTS! would like one lucky readers to win the February Love Assortment consisting of 4 boxes of our latest, best selling, super yummy Holey Donuts! Low Fat Treats and $250 Holey Donuts! store credit good for 1 year.
Enter to win by going here
http://www.holeydonuts.net/ebusiness/contact_us.asp
. You will need to put the name of
our blog (Shooting Stars Magazine)
in the subject line as well as
your name
and email address in order to enter. You don't have to put much in the comment section...just enter me in the donut giveaway or something, but make sure OUR blog name is listed so they know we referred you! Please only enter once.
Holey Donuts is amazing, as you can see if you go and read my review that was posted not too long ago so entering this giveaway would be a good idea. They will send emails with new products and deals so even if you don't win, you might find a good time to buy some for a good price. And if you DO win, you get amazing donuts and store credit for a year that would be perfect for a party of some sort! If I refer the most people then I'll win $500 which would be for my family as they could really use it at the moment (not to go into it much) and it would be a wonderful surprise. So please help me!!!


Now if you do enter, I want to say thank you so you can go and enter to win Holly Black's new novel White Cat (out May 2010 so this is an ARC version):


I will most likely have another giveaway up soon to say thanks again so keep an eye out!! I appreciate it.