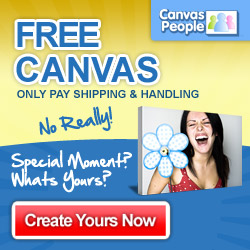 One of the gifts that my mom gave out this year was a canvas. That means...they take a picture you upload and turn it into a hardback, wrap around canvas in your size choice. My mom used a photo of her and her two sisters when they were slightly younger, and had a canvas made for her mom for Christmas. It turned out amazing and one of my mom's sisters even wants one of her husband and her now! And now
you can get one too!
My mom has one herself too. It's a picture of me, my sister, and brother when we were all really little. It's super cute. My mom's is an 8x10 so she got a stand for it and it sits on there, for everyone to see.
As you can see from the photo above, you can now get one yourself for almost NOTHING! Canvas People (where we got our canvases) is offering $55 off any canvas. If you go for the 8x10, that means all you pay is shipping and that's usually only $15. A
wonderful gift
and memory for only 15 bucks? Umm...yes, please! If you go bigger, you just pay shipping and the amount that left over from $55 on your canvas choice.
This is a limited time offer, so get moving...but this would be great for pretty much any holiday or event. PLUS, next month is
Valentine's Day
and what woman would not want a canvas of their loved one(s)?!
-Lauren
NOTICE: This is a sponsored post...in the sense that I get money back for anyone that goes through with this offer, as far as I can tell. haha I'm new to the program. I do love this website and think this is an amazing deal. That is my personal opinion.