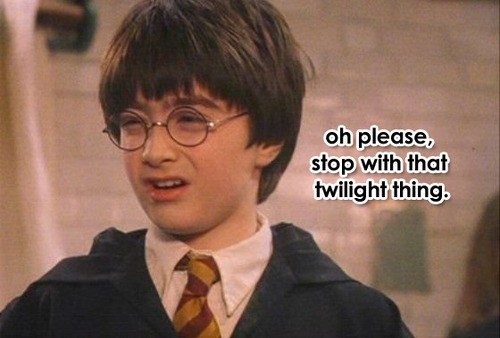 And don't hate me Twilight fans...I like it too. Harry Potter,
in my personal opinion
, is better and something I will always love. I've grown up with Harry Potter, and while I'm super excited to see the final film, I'm really sad this is the end. It'll be weird. I thought this picture was particularly hilarious though. I'll probaby post even more amusing HP pictures this week...just because it amuses me and I hope it gives some of you a few chuckles as well.
However, I'm also going to highlight some Harry Potter products that fans need in their lives. These are all things I've found via
Etsy
(great site!) and would spend my money on...if and when I ever had the money. I was going to start that today but time got away from me, so the first product highlight will go up tomorrow. I'd love to know your thoughts!
Oh, and for all you out there that have young kids or know young kids, you should
bid on this jacket
. You get a girl one or a boy one and it's practically
magic
which is why I'm mentioning it!! It's like a cooler pillow pet!! I'd totally want it if I were younger...but alas, it wouldn't fit!!!
Here's another picture for now...oh, epilogue humor!! Don't look at this if you haven't read the book. And if you haven't, shame on you!! tsk tsk.