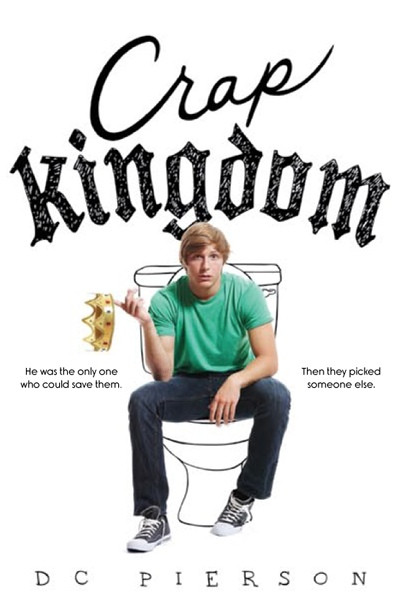 Crap Kingdom by DC Pierson
Review by Lauren
copy sent for review, but all opinions are our own
Official Summary:
THE CHOSEN ONE MUST BE RETRIEVED FROM EARTH

HE WILL BRING DOWN THE WALL AND RESTORE THE KINGDOM TO GLORY

HIS NAME IS TOM PARKING

With this mysterious yet oddly ordinary-looking prophecy, Tom's fate is sealed: he's been plucked from his life and whisked away to a magical kingdom to be its Chosen One.

There's just one problem: The kingdom is mostly made of garbage from Earth. Okay, well, two problems: the king hates Tom. Also, the princess likes to wear fake mustaches. And being Chosen One seems to consist mainly of cleaning out rats' noses at the Royal Rat-Snottery.

So, basically, the kingdom sucks.

When Tom turns down the job of Chosen One, he thinks he's making a smart decision. But when Tom discovers he's been replaced by his best friend Kyle, who's always been cooler, more athletic, and better with girls, Tom wants Crap Kingdom back—at any cost. And the hilarity that ensues will determine the fate of the universe.
Review
: Crap Kingdom is anything
but
crap! It's an amusing book that is sure to please either gender, which is always a plus when it comes to YA.
Tom Parking has always wished there was another world out there; particularly one where he could be the hero. When he finally gets his chance to be the Chosen One of an unnamed kingdom (Tom dubs it Crap Kingdom...because, well, he thinks it's crap), it's not at all what he imagined. Being the Chosen One doesn't seem to be an honor and the King would be quite happy if Tom returned to his own world.
Of course, once Tom turns down his Chosen One title, he realizes that he might have missed out on something great. Though to be fair...his best friend Kyle seems to get a way better deal than Tom was offered in Crap Kingdom.
Regardless, Crap Kingdom needs Tom
and
Kyle, whether they want to admit it or not and the two boys find themselves in the life-and-death situations they could only ever imagine before!
Like I said in the beginning, Crap Kingdom is definitely not a crap book and I highly enjoyed reading about Tom, the kingdom, and Tom's "real" life on Earth. Pierson is a clever writer, sure to amuse and entertain readers as they learn all about this imagined world and everything it contains.
On a basic level, Crap Kingdom might seem suitable for a slightly younger audience (minus the word Crap, if that bothers you), but it's definitely a teen novel. There is mention of kissing, possible sex, etc. but nothing graphic or too intense. I think it would be a great title for boys that don't read often.
The end of Crap Kingdom wraps up enough, yet leaves it open for more adventures, and I certainly hope there will be!