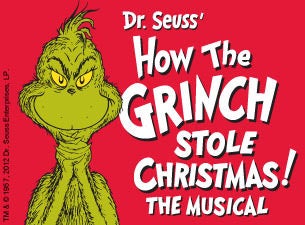 How the Grinch Stole Christmas! the Musical
Review by Lauren
To find tour dates and more,
visit the official website
Official Summary
:
Discover the magic of Dr. Seuss' classic holiday tale as it comes to life on stage. Featuring the hit songs "You're A Mean One, Mr. Grinch" and "Welcome Christmas," The Grinch discovers there's more to Christmas then he bargained for in this heart-warming holiday classic. Max the Dog narrates as the mean and scheming Grinch, whose heart is "two sizes too small", decides to steal Christmas away from the Whos, an endlessly cheerful bunch bursting with holiday spirit. Celebrate the holidays with this heart-warming holiday classic.
Review
: I saw How the Grinch Stole Christmas the musical a few weeks ago with my mom, but I figured the week of Christmas was a nice time to share my overall thoughts. If you know and enjoy the story of the Grinch, then chances are you will find this musical at least relatively enjoyable. It's fun, upbeat, and ends with an overall wonderful message about Christmas being about more than physical presents.
The Grinch was probably my favorite character, as he was great with the crowd. He talked to the kid's in the audience, and definitely added the overall humor. Obviously, without the Grinch, you don't have a story...but it's still safe to say he's the highlight. I just wish we got a bit more of him, to be honest!
However, the Grinch's dog, Max, was pretty enjoyable too. Older Max narrates the story, while the Young Max takes part in the re-telling. It was a cute way of telling the story. As for the narration, all of it is easy to follow and everything rhymes as if Old Max is reading a book. Definitely suitable for kids.
Finally, the music! I loved the old classic "You're a Mean One, Mr. Grinch". I think that will be the song most people remember, especially the little ones. My big negative for the musical at large is that there wasn't a lot of original music. What I mean is that some of the songs are re-done like "Mean One" later in the musical. I don't mind songs having a reprise in musicals, but this one seemed to have a bit too many.
Beyond that, it was a really cute musical and I would definitely recommend it for families!