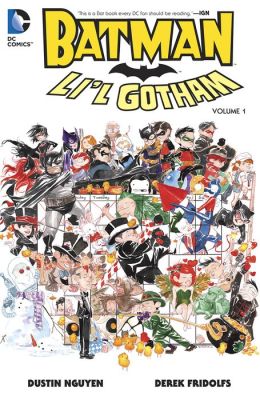 Batman: Li'l Gotham (Volume 1) by Dustin Nguyen and Derek Fridolfs
Review by Lauren
copy from library; all opinions are my own
Official Summary
:
First up, Robin needs Batman's help to learn the true meaning of Halloween. Then, on Thanksgiving,

Batman and Robin

join the families of Gotham City around the table for a holiday feast--and birds of a feather flock together to stage a march against the city...led by The Penguin! As Christmas time approaches, the search for a missing holiday choir leads Batman and Nightwing into a confrontation with Mr. Freeze! But in this heartfelt Christmas tale, the frozen fiend's motives aren't as nefarious as they seem...And on a festive New Year's Eve, Catwoman thinks she'll be spending a quiet night at home, contemplating her New Year's resolutions--until Poison Ivy and Harley Quinn show up, that is!
Review
: For someone like me, who is mostly a newbie to Batman and his world, I found Batman Li'l Gotham to be a bit confusing in parts. The actual stories are cute and easy to follow, but they include a lot characters and I didn't always know who they were at first. However, I eventually figured things out for the most part and found myself really enjoying this volume of stories.
The Joker and Harley Quinn on Valentine's Day
Li'l Gotham is perfect for younger Batman fans, as all the characters are drawn in miniature and each story focuses around various holidays, most involving a mystery that wraps up nice in the end. I could see parents that grew up loving Batman sharing these stories with their children to start their love of the superhero without the violence and more "scary moments." For me, it was cool to get to know some of the other people in the Batman universe through these comics (obviously collected together in this first volume). I've been on a Batman kick lately, so it's nice to get a better understanding in an easy to read format that doesn't take too much thought to get through.
If you're completely new to Batman, you might want to look up some of the famous characters so you aren't left confused while reading, since nobody is really explained; they simply show up and do their thing, from the villains to the heroes. For example, the first stories show Batman and Robin but what you have to know is that the current Robin is Damian, Batman's biological son and not one of his earlier Robins (like Dick Grayson).
Beyond that, I think this was a fun collection and I would definitely recommend to Batman fans, young and old. The second volume of Li'l Gotham comes out August 5, 2014, and I'm definitely excited to check it out! They're cute and fun and perfectly enjoyable!