Cinderella Ate My Daughter: Dispatches from the Frontlines of the New Girlie-Girl Culture by Peggy Orenstein
Discussion Review by Lauren
copy from library; all opinions are my own
Official Summary
:
The rise of the girlie-girl, warns Peggy Orenstein, is no innocent phenomenon. Following her acclaimed books Flux, Schoolgirls, and the provocative New York Times bestseller Waiting for Daisy, Orenstein's Cinderella Ate My Daughter offers a radical, timely wake-up call for parents, revealing the dark side of a pretty and pink culture confronting girls at every turn as they grow into adults.
Discussion Review:
This book just screams "discuss me!" after reading it. It's one of those non-fiction books I could see book clubs reading, especially women who have kids. I don't personally have any children and I feel like this "girlie-girl" culture that Orenstein talks about came around when I was a bit older, so there are aspects of the book that don't affect me. Regardless, I found what Orenstein had to say to be very interesting and while I didn't necessarily agree with everything, I could appreciate the viewpoint. I think Orenstein does a great job at pointing out how certain thoughts can be extreme and that not everything she or other parents do is correct, but it's still important to pay attention to the way the world is changing and how that can affect your daughters.
The Disney Princesses are definitely discussed a lot in this book. In the beginning of the book, Orenstein talks to a group of mothers about the Princesses and writes-
"What gave these mothers pause, then, was the fantasy the stories promoted that a man would take care of you."
-p.20
She goes on to state that having the full story does add context because many of the Princesses promote good qualities before they meet "Prince Charming" and live "happily-ever-after." However, most young girls know the basics of the Disney Princesses. They know the pretty dresses and the cute princes who whisk these girls away to a lovely life and future. Sure, the Disney Princesses can affect some young girls in the wrong way. Maybe they grow up thinking a guy has to save them, or maybe they put too much thought into their appearance. However, I personally feel that all girls are different and that having an obsession with the Princesses at a young age doesn't have to be a bad thing. Most of the issues raised in this book just seem to show me that parents need to be aware of their children and talk to them about things. If you feel they are leaning toward negative thoughts about themselves or girls, then that should be dealt with. Most young kids are just having fun though. The same goes for Barbie...which I personally played with for a long time.
Barbie
source
One of the complaints that people make about Barbie is that she promotes an unhealthy body image. Yes, if your child is playing with Barbie and she expresses interest in wanting to look like her, you should probably talk about how she's not real and give her better role models to focus on. However, I played with Barbie for a long time growing up and it honestly did keep me young. I liked using Barbie and her friends to act out the stories in my head. I had fun dressing them up and playing with my friends. Barbie didn't make me want to dress slutty or have the "perfect" body. I just didn't think that way when I was young. Times have certainly changed in that short period of time, but I still believe that Barbie can be an innocent, fun toy for many girls. As long as your child isn't interested in becoming a "human Barbie" like this young lady (
click link
to see what she actually looks like), then I think she will be okay.
Human Barbie
Child Pageants and Beauty Products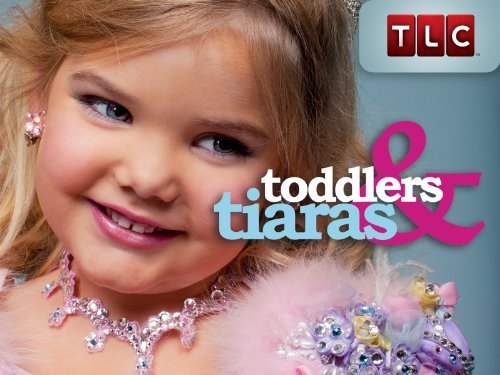 I'm sure most of us are aware of the TLC show "Toddlers and Tiaras" where they follow a few different beauty pageant contests each episode. Of course, as the title says, these are all young children, often around four and five years old. Orenstein comments on this show, but she also shares her first-hand experience visiting a pageant and talking to the moms and children. Obviously, the main issue here is over-sexualized children. I personally think this can be an issue. You are parading your child around at a young age in bikinis and heavy makeup. You are telling them to wink at the male judges and that they have to look a certain way to win. It's not a great message regardless of the positives that pageants can bring. Sure, plenty of women grow up in pageants and live happy, normal lives, but what about the ones that don't? Is it really worth all the time and money to chance your daughter's ability to be well adjusted and have a good perspective on beauty when she's older?
An aspect of pageants is, of course, all the clothes and beauty products that are now being marketed toward young girls. I didn't dress like a mini teen when I was younger, so it's really strange for me to see that happening. It puts too much focus on a body that chances are hasn't been through puberty. It tells girls to show off and flirt and that they'll get attention. Orenstein writes-
"Close to half of six-to nine-year-old girls regularly use lipstick or gloss, presumably with parental approval; the percentage of eight-to-twelve-year-olds who regularly use mascara and eyeliner doubled between 2008 and 2010, to 18 and 15 percent, respectively."
-p.82
I've seen young girls put on lip gloss and the like and I think it's fine for the most part. However, I do think too much makeup and tight clothes at a young age can be dangerous for a girl's self-esteem. Parents should want their children to stay young for as long as they can and enjoy being innocent. Instead, these children are dressing like older teens and pretending to be like them, when in reality, they have no idea what they are exuding.
Overall, I found Cinderella Ate My Daughter to be very interesting. There were certainly aspects that I didn't necessarily agree with and whenever I have my own daughter, I won't worry about all the same things. However, I like the various points that Orenstein made and I do believe it's important to keep track of what your daughter is doing and make sure that the things they love are not giving them the wrong message. If they are just having fun and "being a kid", that's okay. But it's important to think about the affects things can have and to be cautious about what you have your daughter do and wear. Obviously this book is about girls, but these are all things parents should keep in mind for young boys too.
So there you have it...my first discussion review! I hope you'll share your thoughts in the comments about the issues above or anything else you want to talk about!