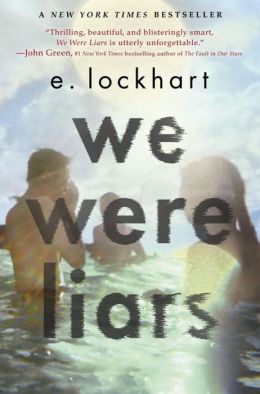 We Were Liars by E. Lockhart
Release Date: Tuesday, May 13
Review by Lauren
copy for review; all opinions are my own
Official Summary
:
A beautiful and distinguished family.
A private island.
A brilliant, damaged girl; a passionate, political boy.
A group of four friends—the Liars—whose friendship turns destructive.
A revolution. An accident. A secret.
Lies upon lies.
True love.
The truth.
Review
: To be honest, this is the first book I've read by E. Lockhart, but I definitely don't think it will be my last. We Were Liars is a fascinating portrait of the mind. I don't want to go into much detail because so much of this book leads to the wonderful, mind blowing conclusion. I can say that it's a quick, yet interesting read full of characters that feel entirely realistic.
Our narrator is Cadence and this book follows the summers leading up to her accident. She spends these moments with the Liars- her cousins Johnny and Mirren, and then there is Gat, Cadence's lovely Gat who she wants more than anything to be exclusive with. Only seeing each other every summer makes things difficult to evolve past sweet, summer flings. Despite that, these four kids grow up into intelligent teenagers who can easily see the wonderful Sinclair family falling apart.
Cadence is a bit selfish, but she's growing. She loves Gat, who opens her eyes to the world past her white, rich family. It was fascinating to view the Liars through her eyes. Johnny who just wants to laugh and live life, Mirren who wants to be loved, and Gat...who sees the world differently than they do, but who still wants to belong.
We Were Liars is a great book, and it's something that I would happily re-read. I can't go into much detail, for fear of ruining the best parts, but I can say that it's worth reading...and then discussing.