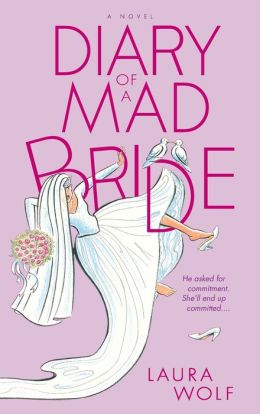 Diary of a Mad Bride by Laura Wolf
Review by Lauren
Source: library, but all opinions are my own
Official Summary
:
Once I was a sane, levelheaded professional woman. Then I said "yes." Now I am the lunatic bride I always made fun of!

What is it about getting married that turns normal people into total freaks?

A savvy, riotously funny novel, Diary of a Mad Bride is for anyone who has ever been a bride, is about to become a bride, yearned to be a bride, or suffered the sheer indignity of appearing in public in the world's ugliest bridesmaid dress....

My wedding was starting in less than twenty minutes, and I was stuck in a 7-Eleven parking lot with popcorn kernels wedged in my gums and vanilla ice cream melting on my dress. It was a disaster too large to comprehend. After an agonizing year spent planning my wedding, could it really end like this? The voices chronicling a year of wedding hysteria swirled in my head....

— My grandmother upon viewing my engagement ring:

"What do you mean he gave you an emerald! Diamonds are eternal, emeralds say, maybe five years."

— My future father-in-law on the night of my engagement party:

"To a happy marriage and, if necessary, a painless divorce!"

— My best friend, Anita:

"Oh, screw congratulations. Of course I'm happy for you. Stephen's a major piece of ass and he's got a sense of humor. Just as long as you're certain this is what you want."

Would I survive this day after all....?
Review
: Amy thinks brides that go nuts planning their weddings are well...a bit crazy. She just doesn't get it, until she's engaged and has to plan her own wedding. She tries her best to keep her expectations in check but when it seems like nothing will go right and you can't always count on those around you, it's easy to lose your head a bit.
While I'm not married, I still thought this was a fairly realistic example of planning a wedding. Sure, a lot more goes wrong for Amy than might happen to the average bride, but you do hear some interesting "horror" stories about weddings. This book, of course, is told in diary format as Amy goes along in her various quests to plan a great wedding. I really love books told this way and I think it really worked for this book. How else would you get Amy's direct, deepest thoughts? She worries about little details of the wedding to big ones like, is Stephen the right husband for her? After all, she never thought she was the marrying kind...and neither did anyone else.
I thought the cast of characters were fun and eclectic. You get a variety of personalities, which both help and hinder wedding plans for Amy and Stephen (though mostly Amy since Stephen is too busy with work). Plus, not only are the events that surround Amy amusing, she is as well. I love her thoughts about married couples in the beginning of the book (she's mostly annoyed by hearing all the details) to her thoughts later in the book when she's fully into wedding planning and ready to just elope.
If you're about to get married, you might want to wait on reading this or you could make yourself more nervous...but if you're like me and not getting married anytime soon (or you're already married), then I'd say check this out. It's quick, fun, and amusing! Perfect read for the summertime.