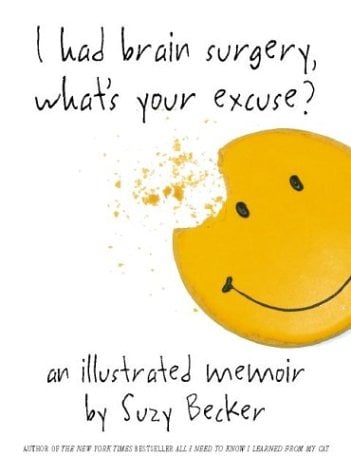 I Had Brain Surgery, What's Your Excuse?- an illustrated memoir by Suzy Becker
Review by Lauren
Source: library, but all opinions are my own
Official Summary
:
For years Suzy Becker, author of the New York Times bestseller All I Need to Know I Learned from My Cat (1.7 million copies in print), literally lived by her wits. Then brain surgery left her temporarily unable to speak, read, or write. I Had Brain Surgery, What's Your Excuse? is a story that grapples with the question "What makes me me?" By turns philosophical and whimsical, rivetingly dramatic and unexpectedly light, it is illustrated with drawings, charts, pseudoserious graphs, real EEGs. The result is a book filled with insights into creativity, identity, love, relationships, family, and that intangible something that gives each of us our spark.
Review
: This book has been sticking out at me for a long time, not only because the author shares my last name (though that
was
fun!) I find memoirs of everyday people to be really interesting. I suppose that's why people like reality TV, except reading about someone's life is much more realistic than those shows. For Suzy Becker, she's an artist and a writer and she doesn't really know what to do with herself if those things aren't there. Obviously, having brain surgery changes things and she finds herself unable to express herself as clearly doing the things she loves.
Her memoir details before surgery, during surgery, and the road to recovery afterwards. Her book is testament that she did get better. Part of what makes this type of book easier to read is Suzy's drawings and charts and otherwise "extra bits" added to the story. Her story is inspiring, because it shows that everyone has to learn to rely on others and to not give up on their dreams, in the face of any challenge. Suzy recovers by trying to do the things she used to do like swim, ride bikes, and spend time with friends and family. It isn't easy at first and she feels extremely guilty for people having to help her so much, but it's a progression and she keeps moving ahead.
I wish I had an example to share of Suzy's illustrations throughout the book, but I'm afraid I couldn't find anything online. I will say that they are fun and there is something on almost every page, whether it's small or a bit larger. She includes inner thoughts, comics that draw out conversations, and even a drawing of Augusta (Suzy's imaginary medical super heroine) who shows up throughout the book to "voice" the questions that Suzy should ask while dealing with various doctors. Augusta is the inner voice that many have and wish they could vocalize. It's something I could relate too because I often feel shy or awkward about voicing thoughts and questions to people, especially when at the doctor.
Overall, I highly recommend this book. I checked my copy out from the library but it's something I would really love to own in the future.