Ottoline and the Yellow Cat by Chris Riddell
Ottoline Goes to School by Chris Riddell
Reviews by Lauren
Source: copies from library, but all opinions are my own
Reviews
: I saw the first two books in the Ottoline trilogy at my library and I thought they seemed fun enough to check out. First off, I should note that these are middle grade books and they certainly read for a younger audience. The books contain kind of silly stories, but include a lot of fun illustrations throughout as well.
Ottoline is independent, yet mostly alone. Her parents travel all over the world and leave her at home in their huge apartment. People come in everyday to make her home-cooked meals or to make her bed. The only company Ottoline really has is Mr. Munroe, a creature who used to live in a bog in Norway. These two are best friends, though, and Mr. Munroe even lets Ottoline brush his hair when she needs to think, even though he's not very fond of it.
Ottoline and the Yellow Cat is about someone stealing jewelry and animals going missing. Ottoline and Mr. Munroe decide to play detective and find out what is really going on. In Ottoline Goes to School, Ottoline gets her parents to send her to a boarding school after meeting a girl named Cecily who attends. Once there, the school seems to be haunted, but Ottoline is on the search as to what is really going on.
Both books include little lessons that aren't too over-the-top. They include the power of friendship and not abandoning the old for the new, as well as the need for parents to be there for their children more often.
I read both of these in one day, as they are really short. They were cute, but I wouldn't say they are entirely suitable for an older audience. The younger crowd would probably find them much more fun.
However, I did like the illustrations and how they are all in black and white except random parts. The Yellow Cat shows red parts, and Goes to School highlights the blue parts. Examples below...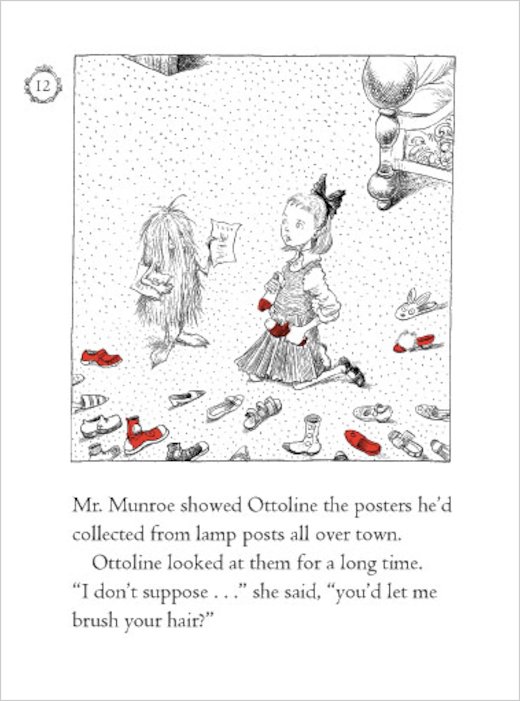 Ottoline and the Yellow Cat
Ottoline Goes to School