Bella's Christmas Bake Off by Sue Watson
Review by Lauren
source: copy from Netgalley; all opinions are my own
Official Summary
:
Two best friends. One big lie. The best bake off EVER.
Bella Bradley is the queen of television baking – a national treasure. Her Christmas specials have been topping the ratings for years and her marriage to Peter 'Silver Fox' Bradley is the stuff of Hello magazine specials.

But this year things are going to be different.

For Amy Lane, Bella's best friend from school, life hasn't held quite the same sparkle. And when Amy's husband walks out three weeks from Christmas, it seems their lives are further apart than ever.

Amy has watched Bella's rise to fame fondly, despite the fact Bella was always a terrible cook. But when she realises that Bella's latest Christmas book is made up entirely of Amy's mother's recipes, the gloves are off…

After winning a competition to appear on Bella's TV show, Amy is going to make sure that for Bella and her viewers, this will definitely be a Christmas to remember…
Review
: I read this book right before the Ho-Ho-Ho Read-A-Thon which was a nice way to get me in the mood for some holiday reads. Bella's Christmas Bake Off is almost like a Hallmark film just in book form. I love holiday themed Hallmark movies, however, so I did enjoy this one overall.
Amy Lane and Bella Bradley used to be best friends growing up, until Amy betrays Bella and she never sees her again, except for an occasional holiday card in the beginning. Years later, Amy has been left by her husband and her twin kids are away at university. Bella is a famous TV personality who is the Queen of Christmas in England. Despite the past, Amy still tries to reach out to Bella by sending a holiday card each year with a recipe that her mom created. Amy and Bella grew up baking with Amy's mom and Amy thinks this might be a way of getting Bella to finally talk to her about the past (we don't know what Amy did until well into the story). However, Bella announces on her show that she's releasing a cookbook of her mother's recipes, and Amy realizes that Bella took the ones she had sent to create a book. Amy, of course, is furious.
The official summary gives you the overall idea of the book and I just went through and summarized a bit more in the paragraph above, so for now, I'll just get into it:
Amy is quite humorous and someone you feel you can relate too and feel for, especially when her husband walks out on her own for a younger girl. Bella, on the other hand, is harder to understand. Even in Amy's memories, Bella is a bit of a brat. However, her parents weren't really around or there for her, and Amy's mom was pretty good at tempering Bella's moods. You can see how they were almost a little family and why Amy misses that since Bella won't talk to her and her mother has passed away.
Of course, like any Hallmark film, things do start to get better for both ladies. There is a big lesson of "don't judge someone by their outsides" when it comes to the characters in the book. It's nice, if not a bit overstated sometimes. That's probably my main issue with the book. Amy seems to repeat herself quite a bit, especially in the beginning, and I just wanted to yell "get on with it!" As Amy reunites with Bella, though, things pick up more. There is more humor, as well as happy moments. There are also some secrets that were easily picked out by me, but it doesn't really affect the story either way since it's not a mystery book.
Overall, this was a fairly quick holiday read. I like that it took place in England, since it's nice to read books in other countries!
If you were to gift someone this novel, I would suggest adding the following to really make it a gift: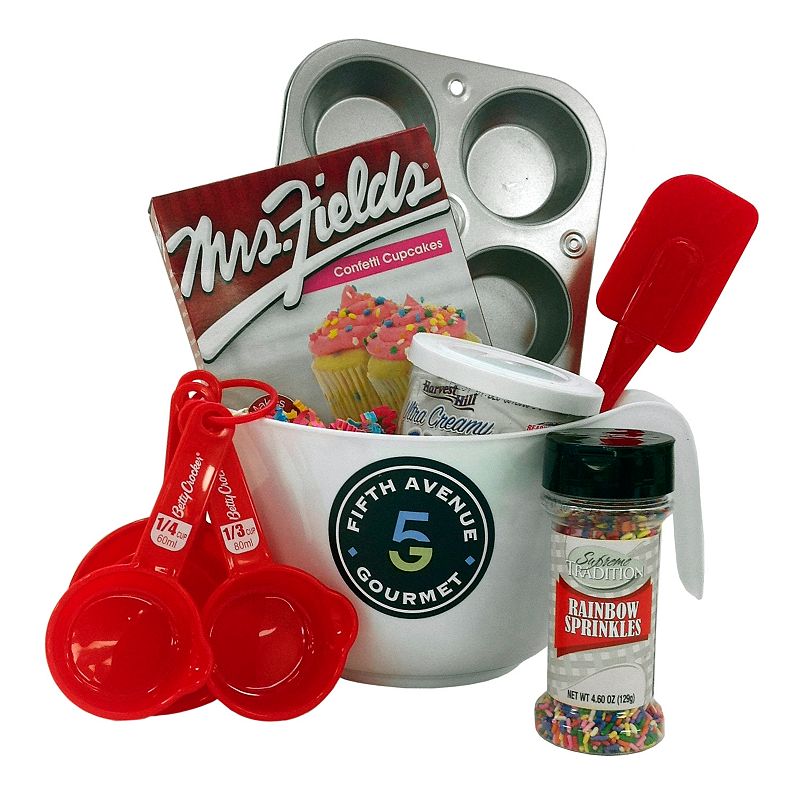 Bake Your Own Party Gift Basket
from Kohl's: As I write this, the basket is on sale. However, the original price was $44.99. I would suggest buying this and adding the book in the basket if it's on sale. However, if it's around $45 then you might be better off shopping for some of these products individually and creating your own basket! At any rate, a fun baker's collection of items is perfect with this novel!