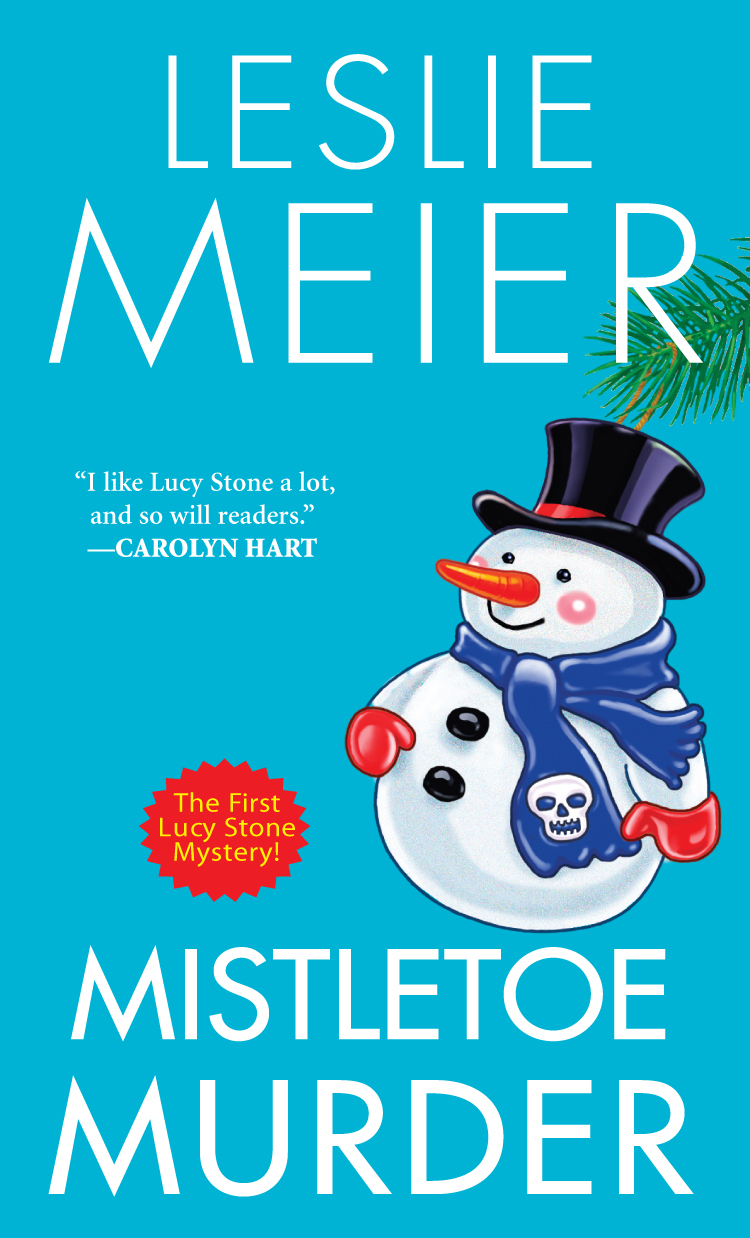 Mistletoe Murder by Leslie Meier
Review by Lauren
Source: copy from library; all opinions are my own
Official Summary
:
As if baking holiday cookies, knitting a sweater for her husband's gift, and making her daughter's angel costume for the church pageant weren't enough things for Lucy Stone's busy Christmas schedule, she's also working nights at the famous mail-order company Country Cousins. But when she discovers Sam Miller, its very wealthy founder, dead in his car from an apparent suicide, the sleuth in her knows something just doesn't smell right.

Taking time out from her hectic holiday life to find out what really happened, her investigation leads to a backlog of secrets as long as Santa's Christmas Eve route. Lucy is convinced that someone murdered Sam Miller. But who and why? With each harrowing twist she uncovers in this bizarre case, another shocking revelation is exposed. Now, as Christmas draws near and Lucy gets dangerously closer to the truth, she's about to receive a present from Santa she didn't ask for--a killer who won't be satisfied until everyone on his shopping list is dead, including Lucy herself. . .
Review
: This was the first book I read for the Ho-Ho-Ho Read-A-Thon last month and I really loved it. What I find enjoyable about cozy mysteries is that you get a really fun story and great characters with a nice mystery that doesn't leave you too frightened! It's a win-win all around. I was lucky when I realized that Mistletoe Murder was the first book in the Lucy Stone series, as I was able to grab it for the Read-A-Thon but I also didn't have to start in the middle of a series.
There is plenty of fun Christmas moments in this book if you want a book that is set during this time of the year. You have cookie exchanges, shopping for presents, relatives coming to town, Christmas pageants, and more! In the midst of all of this, the owner of Country Cousins, where Lucy works evenings, has been found by Lucy herself dead in his car. What first appears to be suicide is soon declared murder.
While a lot of cozy mysteries has the main character investigating and sticking their nose in the cop's business to figure out who the murderer is, Lucy is a bit different. She is known for being curious and her own husband warns her to not look into the murder. However, her means of investigating involves more conversations than actual snooping around, though there are a couple things she looks into on her own. This didn't really bother me, but I figured it was something to point out - I suppose it depends on what type of amateur sleuth you like to read about! I'm definitely curious to see how Lucy involves herself in future murder investigations in later titles.
As for the mystery, I never did figure out who the culprit was until things started being put in place to catch them "in the act" if you will. It was definitely a good ending!