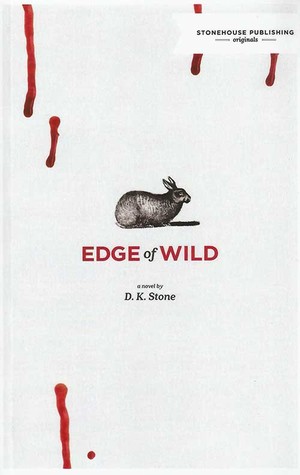 I'm happy to have author Danika Stone back to answer some of my questions about her adult novel, Edge of Wild, which will be released next month. She also has a YA novel, All the Feels, which will be released on June 7th. Be sure to pre-order or save on Goodreads so you remember!
Interview with Danika Stone
Questions by Lauren
1. Edge of Wild is a mystery novel and the question always begs to be asked - what part of this story did you come up with first?
I always start with character. Plot comes later.
The original story circled around Louise Newman. She was the first character that appeared to me and her relationship with Rich was the lens through which I understood the story that eventually came. It wasn't until the second draft that the creepy elements began to evolve.
2. I love the simple, but striking nature of the book's cover. Did you get any say in what it would look like?
The Stonehouse team is phenomenal, and they've welcomed input at every step of the way. Early on, I was asked to send photographs of what I'd imagined the cover to be, and from there, desig
ns were generated. As soon as I saw what they were thinking of, I was sold. I love the simplified cover so much!
3. Now that you've written for adults and young adults, do you find you ever have a preference?
I truthfully love both, and I love them for completely different reasons. YA is fun but short, whereas Mystery lets me delve into more complexity, but it also requires far more revision. Asking which I prefer is like asking someone whether they rather only eat main courses or dessert. Obviously it would be hard to choose just one! I'll go with both.
4. Readers can find you on social media, especially Twitter. What can people expect from you there?
Short answer: A barrage of gifs, bookishness, and POP-CULTURE SQUEE! Ha!
Long answer: I am obsessed with books (among other things), and I love talking with readers and finding out what they are reading. If you're an aspiring writer, I hope that some of the quotes and blogs can inspire you. And if you're just there to celebrate the release of your fave movie / television show, I want to join in!


Don't be shy. Talk to me. (Authors love that!)
5. Anything you'd like to be asked and never have been? Or something you think people should know about you, your writing, or Edge of Wild?
I've never been asked which parts of Edge of Wild are real, but I'll tell you that one of Lou's stories – the one about the three lost boys – is actually true. My father was one of the children lost on the mountain, and the description of that night, lost in the woods with a trail that inexplicably wasn't there, has stayed with me to this day.


An interesting tidbit I just discovered this weekend is that William Shakespeare is my great- great- great- great- great- great- great- great- great- great- great- great-Uncle (through his younger sister, Joan Shakespeare.) That's pretty cool!
Lastly, I'd like people to know where to find me. Come on over! I'd love to talk.