I've been wanting to re-read the Harry Potter books for a long time now, so I figured this Harry Potter Read Along, hosted by
Bookish Things and More
would be a good way to do that. You can check out the post to get full details, but basically, the read along starts today and ends December 31st. You'll be reading one Harry Potter book a week and ending with Cursed Child, so 8 weeks and 8 books. I don't know if I'll be able to keep up when the books get longer, but I'll be doing my best!
This would be a great time to re-read these books or read them for the first time, because there are giveaway incentives! I'll copy and paste the schedule and giveaway details below, but
visit the blog
to sign up.
Schedule
11/6 – 11/12: Sorcerer's Stone
11/13 – 11/19: Chamber of Secrets
11/20 – 11/26: Prisoner of Azkaban
11/27 – 12/3: Goblet of Fire
12/4 – 12/10: Order of the Phoenix
12/11 – 12/17: Half-Blood Prince
12/18 – 12/24: Deathly Hallows
12/25 – 12/31: Cursed Child
Each week I will draw one winner. That winner will get to choose the Harry Potter coloring book of their choosing.
At the end of the event, I will pick a winner from all the entries over the course of the read along, and that person will receive either the illustrated Sorcerer's Stone or illustrated Chamber of Secrets.
This giveaway is international as long as The Book Depository ships to your country.
***
I'm hosting a giveaway on Twitter and it will end tomorrow night, so you still have a little over 24 hours to enter if you wish! You just need to follow and RT
this tweet.
If for some reason, the link won't work, I'm @shootingstarmag on Twitter and the giveaway is pinned at the top of my page.
What do you win? A year's subscription to one of these magazines (U.S. only I'm afraid...):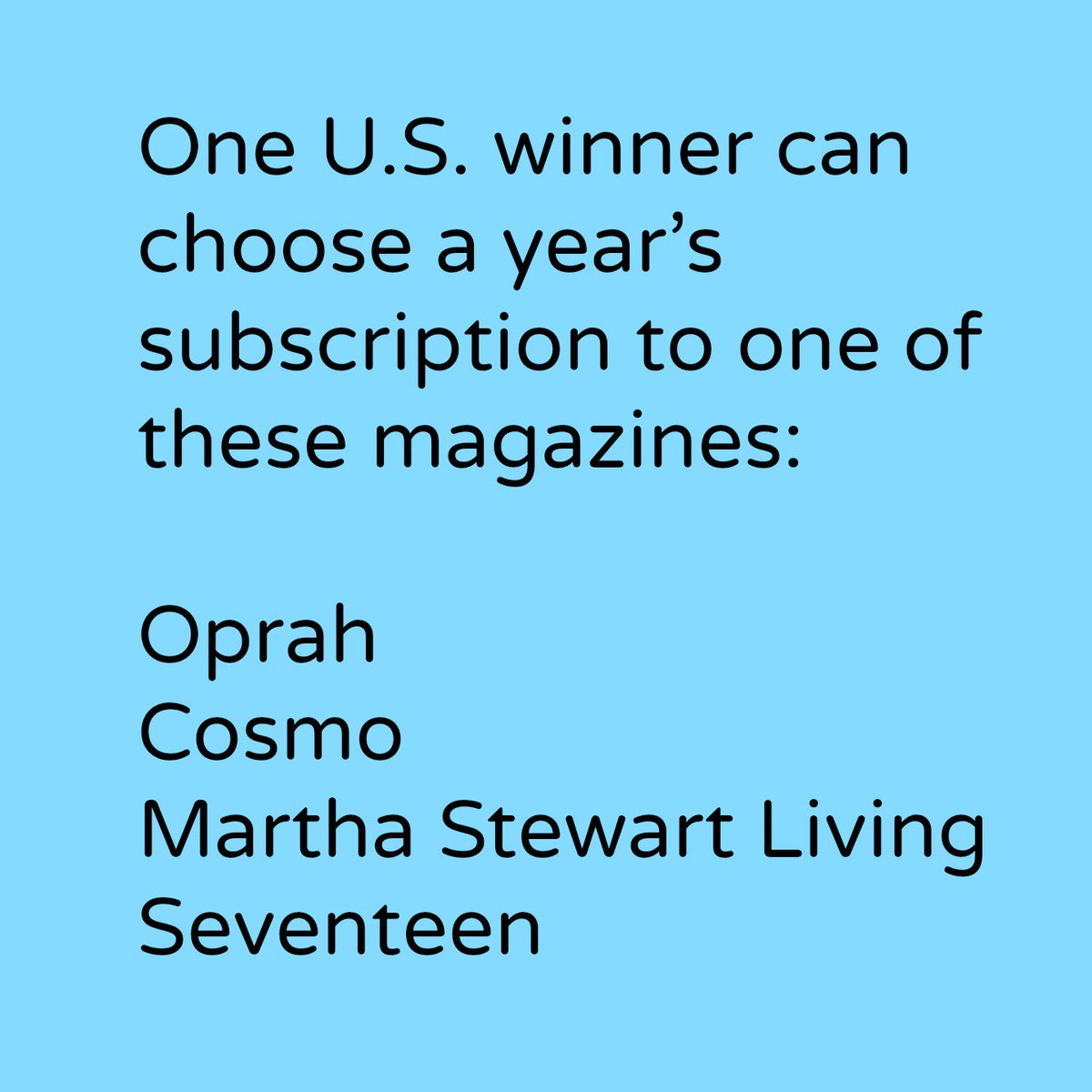 Be sure to follow my blog,
Leave a Mark Auctions
so you can be aware when auctions go live. Ending tonight at 9 p.m. EST is an annotated copy of
The Orphan Queen by Jodi Meadows
. I have a full schedule for the rest of November, including Symptoms of Being Human by Jeff Garvin and We Are the Ants by Shaun David Hutchinson. I'd really appreciate all the follows, even if you don't think you can bid anytime soon! The more followers, the more likely I can keep getting authors to donate their time and books!
Finally, my October Harry Potter month has been extended. I realized I just didn't have time to include all the posts (and giveaways) that I wanted, so now that it's November, I'm doing Thankful for Harry Potter Month. Be sure to keep an eye on the
Harry Potter month
page though as I link up all the HP-related posts - including the giveaways. There are currently 5 giveaways that end this Saturday, November 12. One is International!